The coolest Wellies ever and more reasons to watch too much TV
Jimmy Choo for Hunter boots (The Supermelon). Man we wish we got the Sundance Channel: They've got Karl, Marc and Yves (oh yeah, we're totally on a first name basis) every night this week. DIY Margiela, plus Paul Smith shows you how to customize an old shirt and Vivienne Westwood loads on budget tips like using a kercheif as underwear.
We have to wait till October to view the new Céline collection and comeback of Phoebe Philo, but apparently the whole affair will be a lot more British.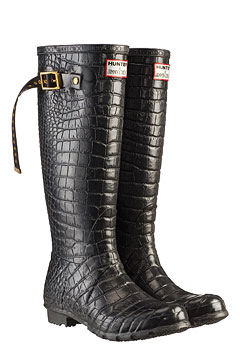 In the old-news-but-cool-photos department: Viktor & Rolf's doll house exhibition last summer at the Barbican was sorta creepy, but in that good Viktor & Rolf way.