Glamor and elegance in the 2009 Goya Awards
The green carpet again promises to bring together the best and well-established actors and actresses of our national scene in the movie Goya Awards 2009.
Our latest dressed actresses, glamor and elegance off with accessories, jewelry and shoes vertigo. Although cold, the rain (and some snow) in the surroundings are not the best temperatures to look modelitos to this day one has to suffer a little and resist temperatures to be lower Madrid guapa.
And that is what the artists did. One of the early birds to come to the party was Goya Toledo, who was with a beautiful gold dress that emphasized her already stylish figure with hair collected and jewelry to match the dress.
It also came before the president of the Academy, Angeles Gonzalez-Sinde, always looking for innovative and original models for the ceremony. This time we saw a dress with striped black and purple of the designers Devotta & Lomba.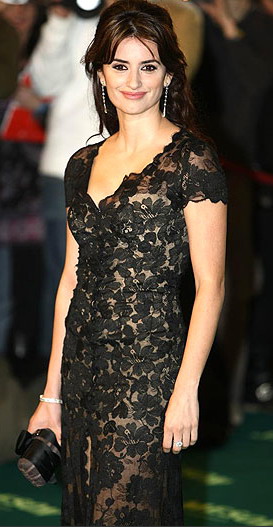 The black is still fashionable in the event of such dimensions, by the time of the year in which they celebrate Goya. Chose actresses Manuela Velasco, a dress with a transparent (slightly favoring) that had to be changed at the last minute because they had to do a little parody of the film that earned him last year Goya, REC, and Veronica Echegui with lace and transparencies, either favor him anything.
From Monica Cruz was also black, the hermanísima that does not mean that such did not interpret sara when no movie, I went Cavalli, a designer who often make several outfits at events. The dress looks a little silver ornament that broke the monotony of the dark.
For his part, one of the most eagerly awaited actresses (who arrived with some delay) was his sister, Penelope Cruz, (estresadísima because at the end of the ceremony had to quickly return to Los Angeles). Also wore a suit, black lace and trendy Chanel, which come under what is thin lately. Cold and giving few interviews, the actress walked the green carpet where thousands of flashes set in his figure, his Goya picked by Vicky, Cristina, Barcelona, something we already knew because it had come and went flying. Where was Javier Bardem?
Belén Rueda was a beautiful white dress with decorations by Carolina Herrera. Had a pickup, something that many actresses chose when combing. Other color that stood at the gateway of the prizes was the meat. The actress, who also race in Hollywood, Paz Vega, wore a dress of Hannibal Laguna flesh-colored and very voluptoso that did not quite hide her pregnant tummy to her second child.